What are EMF, EMR, and RF?
Electromagnetic Field (EMF), Electromagnetic Radiation (EMR), and Radio Frequencies (RF) are no different than the cigarette carcinogens you can see and smell.
Most are not sensitive to them or they don't realize their physical symptoms are related to them but when you have heavy metal toxicity, you are superconductive.
We are surrounded by them daily without realizing it but there is a lot of simple to extensive actions you can take to protect yourself.
I'd like to share some easy to more intense tips for you to choose from so you can take steps toward a safer and more comfortable environment in ways you may not have considered!
MEASURE:
There are 3 meters I recommend choosing from or using all of them at home and in your workspace:
1-Cornet Electrosmog Meter as it measures all 3 forms.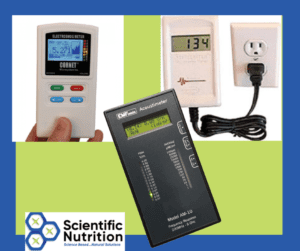 2-Acoustimeter to measure RF readings and it's easy to use.  It will tell you the highest reading you have picked up in the session, the average reading, and the current strength at the moment.
3-GS Meter is for detecting dirty electricity from cell towers, dimmer switches, DVD players, TVs, computers, fluorescent lights, adapters, clock radio, and appliances.
How can I avoid EMF and EMR exposure?
You spend a third of your day in the bedroom sleeping to rejuvenate, rest, and heal from the day so let's start there.
Ways to eliminate EMF, EMR, or RF in the bedroom:
Get rid of the electric blankets.


.

Plugged in electric alarm clocks.  Use battery or wind up ones.


.

Cell phones or wireless phones and chargers.


.

Synthetic fabrics for curtains or rugs that have chemicals or static electricity.


.

Window air conditioning units anywhere near the bed (avoid in the room if possible).


.

Move the bed away from dirty electricity outlets or walls with electric meters on the outside.


.

You can use YShield paint t block ALL wifi and RF radiation.  It is free of chemicals and water-based.


.

Put metal screens on your windows instead of plastic ones.


.

Use Scotchtint film directly on the windows to shield RF and it will help the heating bill!
More ways to block or avoid EMF exposure:
Change dimmer switches to conventional ones to lower dirty electricity.


.

Toss the microwave out! Use the oven, oven toaster, air fryer, pressure cooker, etc. Microwaves cause your food to lose 60-90% of its nutritional value and can leak some of the 2.45 GHz (like a cell phone)!


.

Use wired headsets (Air Tube headsets or earbuds) with the cell phone or computer to protect your head.
Never wireless air pods as they send the wifi signal from one pod THROUGH your brain to the other.


.

Go back to a wired telephone cord with a speaker sitting away from your body.


.

Turn wifi routers off in the evening and at night when you are sleeping.


.

Use an Ethernet cable instead of wifi on your laptop or PC as well as to the printer when needed.


.

Replace "smart" meters with dialed ones (like you used to have) as it emits radiofrequency microwave radiation into the house 24/7, 365 days a year!  If you can't replace it, at least buy a shielding product (DM me).  This is very important if it is outside your bedroom or where you sit.


.

Choose LCD monitors with LED backlights versus fluorescent ones.


.

Disable Bluetooth and wifi once you are on an Ethernet connection.  Computer updates will engage them to gain so check it often to make sure they are still off.


.

When replacing your mattress, look for organic materials to avoid chemical exposure for 8 hours a day, no metal springs to conduct electrical or magnetic radiation, and a wooden bed frame and headboard.


.

Change out fluorescent lights or halogens as the energy-saving mechanism emit strong magnetic fields.  Ultraviolet to near-infrared in the incandescent bulbs are most like daylight spectrums.


.

Bring in some house plants for fresh air and to reduce the negative ions.  NASA recommends cacti after doing space research on this topic.  Natural crystal salt lamps work well also.


.

Do not use a laptop or tablet on your lap as it exposes your body and hands to constant EMF.  Use corded keyboards and a wired mouse as often as possible.


.

Buy a pendant with resonance technology to ground your nervous system no matter where you are at.


.

Use your cell phone at full bars so it is not broadcasting and pulling strongly for a signal.


.

Walk barefoot on the soil when possible to replenish the natural direct current electrons that work in your body systems and rhythms.  It also discharges EMFs to regain your electrical balance.


.

Try grounding (earthing) mats, pads, mattress covers, and shoe inserts (ask me).


.

Turn off the circuit breaker to bedrooms at the panel at night.


.

Invest in Waveguard Qi home shields. From the personal to the home, it is the best and proven.


.

Don't use your cell phone in the car! It is a giant faraday cage trapping and magnifying EMF.  When using it while driving, it causes the phone to constantly scan and reach out for signals amplifying exposure.


.

Measure the transformers in your yard or close to your home.  If it is unacceptably high, call for a fix!


.

Check for naturally occurring geopathic stress zones known as the Hartmann Grid coming from the ground near and around your home.  Even underground water lines can cause you to have symptoms and farm animals will avoid walking near or over them.  I have seen ants follow these lines so block them.
I realize some of this may be very new to you and may even sound a little "tin foil hat" like, but the health threat is real.  Once you start researching the damage that it can do to us, especially 5G, you will be astounded.
All of this exposure is affecting your cellular health.  Removing your heavy metal toxicity can significantly lessen the burden of your level of conductivity and oxidative stress that is killing your cells.  Don't ignore the threat.
LET'S CHAT about your health goals!
Learn more about sources of EMF
Here are a few helpful links I would like to share:
https://www.antennasearch.com/ in the USA or https://www.mastdata.com/ in the UK to help you search your area for the nearest cell towers that may be affecting your health.
Also, check out https://www.dirtyelectricity.org/ and https://www.radiationresearch.org/
Copyright Scientific Nutrition, LLC 2022